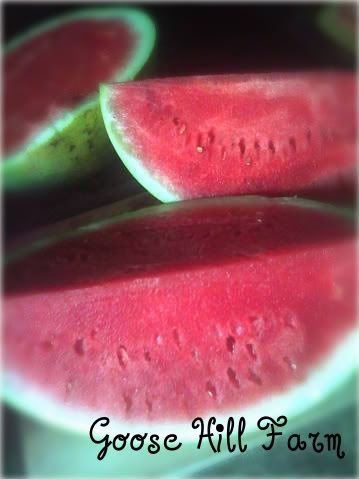 Watermelon Time
Now watermelon time is here.
And when the day is warm and clear
Our uncle thumps the green balloon
And says it's ripe, and very soon
A splash of pink comes into view
We know exactly what to do
We take a bite, we eat and eat
And taste the summer,
Pink and sweet
~Leland B. Jacobs~
I don't know about you, but I just LOVE watermelon. It is by far, my favorite summer yummy! The sweeter and juicier the better! I have to say though, I do prefer the seedless kind. But I have to admit, every once in awhile, it's FUN to have a seed spitting contest! lol
I found some "cool" watermelon facts and information and thought I would share them with you!
Did you know. . . .Watermelon contains high concentrations of lycopene, an antioxidant that may help reduce the risks of cancer and other diseases. Watermelon is fat free, nutritionally low in calories and considered an ideal diet food, and is high in energy, making it a great energy boost and a welcome treat on hot summer days!

Watermelon, the fruit that is really a vegetable. Watermelon can be traced back to Africa and is part of the cucumber and squash family. Early watermelons were mainly rind and seeds. Today's varieties are larger, the flesh sweeter, with fewer smaller seeds and the rind thinner. With its bold red flesh and satisfying crunch, it is perhaps the most refreshing, thirst quenching fruit of all. (I so agree with that) Watermelon consists of 92% water and 8% sugar, so it is aptly named. Americans eat over 17 lbs of watermelon each year. The largest one on world record (Guinness Book of World Records) weighed 262 pounds. WOW! Can you imagine that on your kitchen table?

Watermelon is a perfect addition to a salad, salsa, or cool drink. Top chunks of sweet watermelon with fruit flavored sherbets or sorbets.

Selecting
Choose firm, symmetrical, fruit free of cracks, bruises, soft spots or mold. Ripe watermelon will have a healthy sheen, a dull rind, dried stem, and a buttery yellow underside where it touched the ground. There should be a melon like smell or fragrance. Thump if you must, sound should be dull and hollow. Lift them, weight should be heavy for size. ***Avoid watermelons that are very hard, white or very pale green in color on the underside, indicating immaturity. An immature watermelon will be slightly acidic.

Storing
Once picked, watermelon will not ripen easily. If unripe, try putting the whole melon in paper bag un-refrigerated. This sometimes works to ripen them. Watermelons can be kept for short periods of time, up to 2 weeks, uncut at room temperature. Wash watermelon with soap and water before cutting. Once cut, package what is not eaten in closed plastic containers or bags and put back in the refrigerator.
Nutritional Facts:
Fat-free - YAY!!
Saturated fat-free
Very low sodium
Cholesterol-free
A good source of vitamin A
High in vitamin C

Homeschool Resource: For a Watermelon Theme/Unit, please click HERE!

For an AWESOME, and I do mean

AWESOME

site for watermelon recipes, carvings (you are going to LOVE these!), FUN facts and FAQ's, more health and nutrition information, please click HERE!

You won't be disappointed!