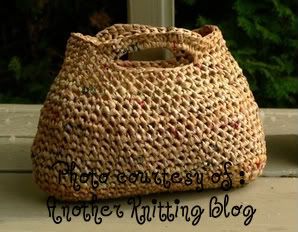 I found this purse over at
"Another Knitting Blog"
this morning and just had to share it with you. It is made of. . . .you are
NOT
going to believe this. . . . .plastic grocery store bags. That's right,
PLASTIC GROCERY STORE BAGS!
How awesome is that?
This is such a great idea. I am so going to have to try this one!
To check out Michelle's tutorial, please click
HERE!
If you give it a shot and make this before I do, PLEASE come back and leave a comment so we can come over and take a look! :> )