This past week I have been making a few fabric pouches. They are so
CUTE AND EASY
to make.
The directions I originally found were difficult to understand so I threw them out, looked at the pictures, and made a pattern of my own. Once you get the hang of it, you will be able to change the dimensions and make them whatever size you want!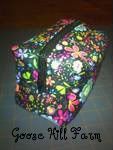 I am going to
TRY
and make a tutorial that I can share with you. It will more than likely be in picture form since I don't have the software to make a slide-show.
Have any of you been working on any sewing projects lately? I'd love to see them!