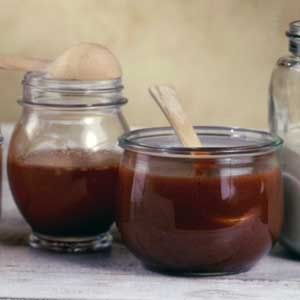 My family
LOVES
Chicken Wing Appy, a recipe I got from my sister Dawn, I beleive. The last time I made this, I needed BBQ sauce to go with it. I couldn't find the recipe I normally use, so I needed to find another one, so I looked in our church cookbook that Skippy bought me, and I found this one. I know....Ain't He Sweet?
The recipe I used, was submitted by our friend, Frances. She is an
AMAZING
cook, so I knew it
HAD
to be good. Frances did not disappoint me. It was
WONDERFUL
!
I did, however, wind up making two changes in the recipe. The first one was out of necessity, I didn't have any lemon juice and the second was out of
sheer
STUPIDITY!
I thought I grabbed the bottle of soy sauce, but I actually grabbed the Worcestershire sauce. Thankfully, I realized it after I had only added 1 tsp. Even with those two changes, it was still
DELICIOUS!
For this recipe you will need:
* 2 tbsp butter
* 1/2 cup water
* 2 tbsp vinegar
* 2 tbsp Worcestershire sauce
* 1 tsp mustard
* 1/2 cup finely chopped onions
* 1 cup ketchup
* 2 tbsp lemon juice
* 2 tbsp brown sugar
Melt butter in medium saucepan. Cook onions until lightly brown. Add rest of ingredients and simmer for 20 minutes. Use with your favorite meat.
Thank you, Frances, for this
DELICIOUS
and
EASY
recipe!