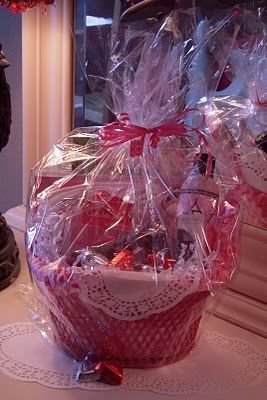 I was over visiting Cathy at
"Tales of The TCKK Family"
and I saw that she had this BEAUTIFUL gift basket posted so I just
HAD
to see what wonderful goodies lay beneath that pretty pink cellophane! Well, it turns out it's a
GIVEAWAAAAAAAAAYYYYYYYY!!!!
I just absolutely
LOVE
giveaways, don't you?
Well Jackie over at
"Fresh Oil Today"
, is hosting this
AMAZING
Valentines Girly-Girl Gift Basket Giveaway. Since it's the
month-o-

luv
, she wants to show
her
love and appreciation for all her peeps by having a giveaway. Actually, she's giving away
2
Girly-Girl Gift Baskets, so be sure to hop on over and check it out before it's too late. You won't want to miss out on this one!
Here's a couple of pictures of the
"SHWEET"
items Jackie is so generously giving away. . . . . . . . . . . . . .
THE TWO WINNERS NAMES WILL BE DRAWN
9 P.M. MT SATURDAY, FEB. 6TH
So, c'mon all you "Girly-Girls" out there.....stop by Jackie's and enter

NOW!!