"In every thing give thanks: for this is the will of God in Christ Jesus concerning you!"
~1Thessalonians 5:18
~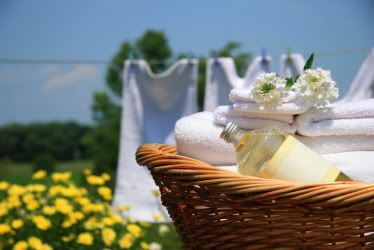 Thank you Lord for all of our dirty laundry. When I wash them, I am reminded that you have been good enough to have provided me with a washing machine. There are many people in the world who still have to do laundry in the closest stream using rocks.
Thanks you also for dirty, greasy work clothes. It means that you have provided me with a hard working husband who provides well for our family. I also thank you for food splattered aprons, which reminds me you have provided us with healthy food for our family to eat.
I'm especially thankful for the muddy and dirty play clothes, it shows me that I have a healthy hearty boy who is growing up to be a wonderful young man.
I thank you for everything Father, the good and the bad, the fun and the not-so-fun...because I know that your hand is in all things and everything works for Your glory! Amen!
Author Unknown