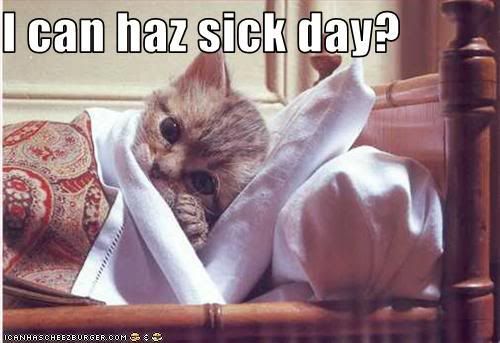 Actually, it's been more like
"I can has sick weeks?"
This is going into my second week of a nasty sinus infection and I can't seem to get rid of it....
BLECH!
A lot of my friends have had this same gunky thing over the past few weeks.
"THANKS FOR SHARING!" lol
As you can tell, I have not been on very much due to this nastiness. I'm sorry that I have not been by to visit you, but I will definitely make my rounds on Monday, French Vanilla coffee in hand! :> )
Tonight is our annual Christmas Party and there is so much to do and I am soooo tired!
EEEEEK!
Thank goodness for my crock pots though. They will be working the hardest today!
Tomorrow we have a full day at church. We have regular Sunday School and church service, then the afternoon and evening is rehearsal for our Christmas program so I'm not sure if I will have a chance to get back on-line.
I pray that you all have a wonderful weekend filled with lots of love and fun!