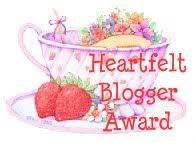 I got this
BEAUTIFUL
award from my sweet friend,
Renee
. How precious you are to me, my friend, and I thank you from the bottom of my heart!
From the moment we met, you have been encouraging, gracious, loving, compassionate, and just a
TON-OF-FUN!
You are always there with a kind word and a smile. You cheer me up when I am down and just when I thought I couldn't laugh any harder, you showed me how wrong I was! lol
I can't tell you how blessed I am that God allowed our paths to cross.
Thank you, my friend!
LOVE YOU!