Come for a walk with me down Memory Lane!
And if you have a "Memory Lane" post, head on over to

Scottsville

to join in on the fun!

"Honor your father and your mother, as the LORD your God commanded you, that your days may be long, and that it may go well with you in the land that the LORD your God is giving you!"
Deuteronomy 5:16


I am not sure when my walk is taking us back to today....but if I really took the time to do the Math, I probably could. In this picture, I believe Mom is about the same age as I am now, which is 44. I
LOVE
looking at old pictures of Mom. She was such a special lady and a
WONDERFUL
mother whom I loved dearly! I only hope that my children will be able to say the same thing about me when I am absent from this body and present with my Lord and Savior!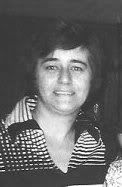 So, do you think I resemble Mom at all? I used to think I didn't until I put these two pictures together ......
WOW!
And for me, that is
just
AWESOME
because I always thought my mom was so
BEAUTIFUL!