A few weeks ago, I spent the day out with my boys. We went to a country/prim shop called "Country Treasures." I took a couple of pictures not only to show you some of the
BEAUTIFUL
things they have, but to also show Skippy some of the things that I would love to one day have in our home. So, here is the beginnings of
MY WISH LIST!
Now I am not necessarily asking anyone to purchase these
GORGEOUS
items, as I know a certain someone who is very capable of
MAKING
these pieces himself. Which would mean so much more to me! (hint, hint, My Skippy Man, but definitely no pressure!) LOL)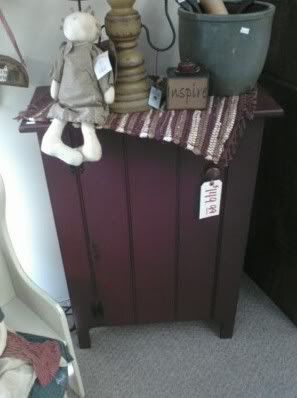 Skippy is very talented when it comes to building furniture. He made a
BEAUTIFUL
entertainment center awhile back for our wide screen tv (when it wasn't broken...WAAAHH!), and a very pretty CD/DVD rack with decorative molding and everything. I was sooooooo impressed! :> )
But if I just had to choose just
ONE
of these amazing pieces, I would soooo have to choose this bad boy!
Isn't it
GORGEOUS??????