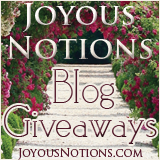 I am so excited that I found a blog called Joyous Notions. Each month, they will be giving away TWO full subscriptions to their magazine, Seasons At Home! How AWESOME is that? I just LOVE giveaways......don't you? So, every month, I am going to re-post this entry until my name is picked! :> )
Seasons At Home
magazine is a full-color, print publication created to encourage families and better prepare themselves through the passing on of life skills needed in the home. Seasons is filled with articles and projects that revolve around homeschooling, sewing, cooking and baking, gardening, Titus 2 encouragement, themed teas for mothers and daughters, father/son projects, and daughters at home.
You have many opportunities to be entered into the drawing. You will get one entry for each of the following:
1. One entry just for leaving your name (First name and last name initial or full name)
2. One entry for tweeting the giveaway on your Twitter page (you must leave a link in the comment to your Twitter page for us verify)
3. One entry for blogging about the giveaway (again leave a link in the comment to your blog for us to verify)
4. You may grab one of the graphics below to link to us from your sidebar. (Again, leave a link in the comment for us to verify!)
For a full list of entry details, please go
here
Good luck and God Bless!